TUC argues young people were hit hard by the recession and their outlook could darken as public sector job losses mount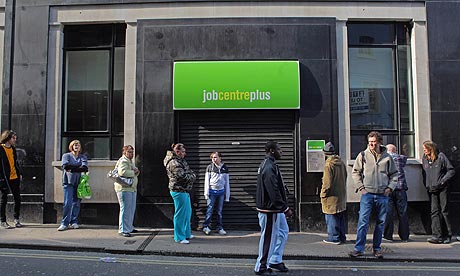 The number of young long-term unemployed people is still rising across two-thirds of the country, according to a
TUC
report today that slams the government for scrapping youth employment schemes.
With official unemployment data today expected to show a further rise in the long-term unemployed, the TUC argues young people were some of the worst affected by Britain's deep
recession
and their outlook could darken further as public sector
job losses
intensify.
Although the economy returned to growth at the end of last year, long-term youth unemployment is up more than a fifth on a year ago, according to the TUC's analysis of Jobseekers Allowance (JSA) data.
It says the number of 18-24 year olds on the dole for more than six months increased in 142 local authorities across the UK in the year to June, compared with just 78 where it has fallen.
The
trade unions
group is calling on the government to reconsider its "deep, early" spending cuts following signs they are already dampening growth and costing jobs.
"Young people were hit particularly hard by the recession and with the government focusing on spending cuts, rather than getting people back into work, they may not fare much better during the recovery," said TUC general secretary Brendan Barber.
The research gives more firepower to government critics who have lambasted its scrapping of the schemes such as the Future Jobs Fund, which
helped charities and businesses to train young people
and get them into long-term jobs.
"The government has yet to announce similarly well-funded support to get people back into decent paid work. Young people struggling for work this summer should be very concerned by the government's silence," added Barber.
In Scotland, where many areas are particularly dependent on public sector jobs and so are seen as vulnerable in coming months, the youth unemployment situation appeared particularly bleak. In 10 local authorities across the UK the number of long-term young claimants more than doubled, with Medway in Kent suffering the sharpest jump at 158% followed by three Scottish areas, West Lothian, South Ayrshire and the city of Edinburgh. The biggest falls in long-term youth unemployment were in Southampton and Stirling.
Economists expect Office for National Statistics data today to show some modest improvement in the labour market with the number of people claiming jobless benefits forecast to fall by 16,500 in July, the sixth drop in a row. But behind that, a further rise is anticipated in the number of people working part-time because they cannot get full-time jobs. As nervous companies shy away from hiring new full-time staff the number of long-term unemployed people over 50 is also expected to stay stubbornly high.
Still, ONS research suggests the labour market has been more resilient during this recession than in those of the 1980s and 1990s. Echoing relief among economists and business groups that unemployment failed to soar as high as initially feared during the downturn, the statisticians said that while this recession was "remarkable for its depth and duration", the loss of employment was relatively low.
In an article
yesterday, the ONS cited support this time around from lower interest rates, softer wage growth and the rise in part-time work at the expense of full-time jobs.
For those who did lose their jobs, the impact was also perhaps less severe than might have been expected.
A separate article from the ONS
concluded that although the number of households in which no-one worked rose during the recession, there was no change to average household disposable income partly thanks to a fall in income tax payments.
But the TUC argues that while the overall unemployment situation was not as grim as previously feared, young people still face particular hurdles to getting jobs. The youth unemployment rate at 17% is more than double the national rate and recent research suggested
each graduate vacancy now receives an average of 69 applications
.
Source